Welcome To Nancy's Virtual Office
What is a Virtual Office Assistant?
A Virtual Office Assistant is an independent contractor who provides administrative support services via the internet to meet the needs of busy professionals and small businesses worldwide.
Ask yourself the following questions,
Do I have a deadline on a project? Can I finish it on time?
How can I concentrate and focus on bringing in clients if I am overwhelmed with the administrative task, which are non-billable hours?
Can I respond to emails and the phone, accordingly?
How can I remember my appointments? Which day is it?
Should I pick up my calls while I am on vacation?
If by any chance you agree you need help look no further, there are many benefits in hiring a

Virtual Office Assistant

.
No need for office space, no overhead costs, no overtime, no downtime, no training costs, no vacation time or sick days, no office hours, no need to hire full-time employees.
Think on how much money you would save opposed to hiring a full-time employee in your office.
How do we communicate with our clients?
Very simple, communication is established by phone, email, fax, IM (instant messaging), and via mail.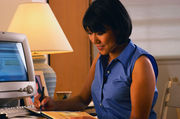 "Concentrate on what really matters YOUR BUSINESS, let us worry about the office stuff"
Pardon the website more updates coming soon
Additional services may be available upon your request
info@nancysvirtualoffice.mysite.com
What services do you provide?
Administrative Support, Personnel, General/Medical Transcription, Bookkeeping & Resume Services
Hardware & Software
The
h

ome office is equipped with a laptop and desktop computers, multi-functional printers, (fax, copier, and scanner). Included are software programs such as MS Word, Excel, Access, and PowerPoint, and Microsoft Works.